Tue., Sept. 25, 2012, 2:51 p.m.
Trader Joe's Peanut Butter Sickens 30
A Spokane teen was among 30 people who were sickened with salmonella connected to a peanut butter sold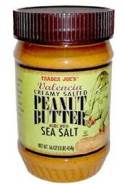 by grocer Trader Joe's. Spokane health officials say the teen, along with another Washington boy from Thurston County, became ill about 6 weeks ago. The peanut butter recall has now been expanded to dozens of peanut, cashew and almond butters produced by Sunland Inc. The New Mexico-based company processed and packaged the Trader Joe's Creamy Salted Valencia Peanut Butter that has since been linked to salmonella cases in 18 states/John Stucke, SR. More here. (Trader Joe's photo)
Question: My name is DFO. And I'm a chunky peanut butter addict. How about you?
---
---