Wed., Sept. 26, 2012, 2:05 p.m.
Bulletin: CdA Resort May Be NW Best
No destination resort in the Pacific Northwest combines comfort and sophistication — including a luxurious spa, fine dining options and recreational amenities — so well as The Coeur d'Alene. Nestled on the north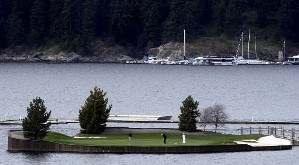 shore of its 25-mile-long namesake lake, the resort was built in 1986 and immediately became the catalyst for the gentrification of the town of Coeur d'Alene (pronounced core-duh-LANE). "Downtown took off with a character of its own," recalled Bill Reagan, the resort's general manager since it welcomed its first guests. "It's as if the hotel created a center from which Coeur d'Alene could grow." After a 413-mile, 7½-hour drive northeast from Bend, via the Tri-Cities and Spokane, my traveling companion and I turned off Interstate 90 in the late afternoon and approached the hotel via a circular drive off Sherman Avenue. A team of valets and bellmen was there to greet us, unloading our luggage, parking our car and guiding us through the elegant, contemporary lobby to the long front desk, where we were quickly checked in for a three-night stay/John Gottberg Anderson, Bend Bulletin. More here. (Jesse Tinsley SR file photo: Coeur d'Alene Resort floating green)
Question: Can you think of a better Northwest resort than the Coeur d'Alene Resort?
---
---