WEDNESDAY, SEPT. 26, 2012, 3:49 P.M.
CPD Names Suspect In Robberies
Coeur d'Alene Police Department news release: Coeur d'Alene Police Detectives obtained a warrant of arrest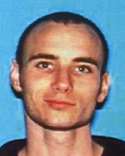 for Christopher Michael Hastings, 26, from Hesperia, California, for two counts of robbery, with a seventy-five thousand dollar bond. Detectives developed information that led them to identify Hastings as the male suspect responsible for the robbery at Walgreens and Tesoro that occurred on Sept. 17. Hasting is currently wanted on a Felony Drug Warrant out of California. Hastings appears to lead a very transient lifestyle, and has recently spent time in Coeur d'Alene. Hastings has a criminal history of violence that includes armed robberies and weapons offense. Anyone with information on his whereabouts is asked to call the Coeur d'Alene Police Department at 769-2320.
---
---