Ann Romney's first fundraising trip to Idaho drew over 200 people and raised about $500,000 Thursday night,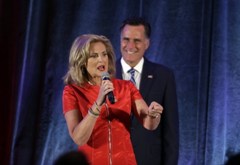 said Romney's Idaho finance chief, Travis Hawkes. The Romney campaign has now raised $3.7 million in Idaho, with Mitt Romney having held five closed-door fundraisers and two rallies in the Gem State. The fee for the event at The Club at SpurWing in Meridian ranged from $1,000 to $25,000 per couple. Sen. Jim Risch, Romney's Idaho co-chairman, said Mrs. Romney spoke for about 15 minutes. "The themes were the themes of the campaign, and that is that Mitt Romney is the person to turn this country around. She was talking about how competent her husband is, how she's watched him turn other things around and how he can turn this country around"/Dan Popkey, Idaho Statesman. More here. (AP file photo: Ann Romney with husband, Mitt, at campaign stop earlier this month)
Question: Wonder if she mentioned the infamous 47% "moocher" factor?