Fri., Sept. 28, 2012, 8:52 a.m.
Carlson: Trust Teachers, Not Pols
Forget about reading the pro and con statements in the Voter's Guide regarding the three referenda on the November ballot to repeal the Otter/Luna educational reforms. Ignore the million-dollar campaigns both sides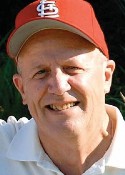 will mount with slickly designed emotional appeals that will tug at your heart strings. Answer one fundamental question: Who do you most trust your children's and grandchildren's future to, the teachers who are with them in the classroom 180 days a year, or a governor and a school superintendent hell-bent on rationalizing investing fewer dollars in education and who are dictating reforms from the top down? This really does boil down to "who do you trust?"What Gov. C.L. (Butch) Otter and Superintendent Tom Luna don't get is that trust is at the heart of the people sanctioning government to provide services and to divine the greatest good for the greatest number. Trust, like virtue, once lost can never be regained. From the get-go the governor and the SPI forfeited that trust by the dishonest and deceptive way they went about ramming their idea of reform down the public's throat/Chris Carlson, Carlson Chronicle. More here.
Question: Who do you trust more re: your child's education -- Idaho teachers or Idaho politicians?
---
---