Fri., Sept. 28, 2012, 9:01 a.m.
Trib Jeers Crapo, Risch Vote
In his weekly Cheers & Jeers column, opinionator Marty Trillhaase of the Lewiston Tribune gives -- JEERS .... to U.S. Sens. Mike Crapo and Jim Risch, both R-Idaho. They were among 40 Republicans who last week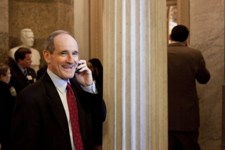 blocked Sen. Patty Murray, D-Wash., in her attempt to launch a $1 billion Veterans Jobs Corp Act. Five Republicans joined her effort, but it fell short of the number needed to break a filibuster. Republicans contend Murray and the Democrats were playing politics by blocking a GOP alternative they claim would have been more fiscally responsible. In a $3.6 trillion federal budget, however, $1 billion is a rounding error. Only a sliver of the American public has paid the burdens of a dozen years of war in Iraq and Afghanistan. The rest of the country has moved on. Now these veterans return, only to find themselves caught up in a hostile economy. The jobless rate for veterans who have served since Sept. 11, 2001, is 12.7 percent. That's 50 percent higher than the national average. More here (final item). (AP file photo of Sen. Jim Risch at U.S. Capitol)
Question: Do you agree/disagree that Crapo & Risch deserve jeers for voting against a $1B jobs program for war veterans, for political reasons?
---
---