Sat., Sept. 29, 2012, 9:13 p.m.
Lake City Police Kill Man In Shootout
Update: The suspect in the shooting has been identified as Christian Nicholas Buquet also known as Christian Nicholas Mallon, 19 of Hayden. Story/photo here.
Update: The man shot in the chest by the suspect was identified as Frank James, 30, of Coeur d'Alene. Coeur d'Alene police have identified the suspect killed in a shootout with police but are awaiting notification of relatives before releasing his name.
Coeur d'Alene police shot and killed a man Saturday after police say he shot someone, then fired a gun at officers and civilians as he drove through Coeur d'Alene. "He was shooting at us," witness Rick Knoke said. "It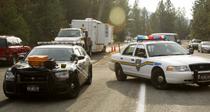 was duck and cover time." The mayhem that left police to process at least five crime scenes around town began just before 11 a.m. near 12th Street and Lakeside Avenue. One unidentified victim was shot in the chest and taken to Kootenai Medical Center, where he underwent surgery, according to Kootenai County sheriff's Maj. Ben Wolfinger. The shooter then started firing randomly at bystanders in the area as he drove, according to police and witnesses. Knoke, who lives in an apartment complex at the intersection where the shooting occurred, said he was sitting outside when he saw the violent confrontation take place/Chelsea Bannach, SR. More here.
Question: Can you believe this happened on a nice morning in Coeur d'Alene?
---
---