Mon., April 1, 2013, 5:28 p.m.
Biopic Tells Dark Story Of Cowsills
Now showing on the Showtime cable network is the documentary "Family Band: The Cowsills Story." A 1960s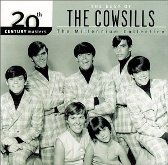 band, the Cowsills grew famous, in part, because their mother and little sister sang with them. The show "The Partridge Family" was later based on this family band. Older boomers will recognize many of the Cowsills' hits, including "Hair" and "Love American Style." Those more popular tunes were written by others, but the Cowsills wrote many of their own songs with darker, richer lyrics, perhaps reflecting the darkness of their family life. The band fell apart in the early 1970s, undone by changing music styles and an abusive, controlling father who managed the band/Rebecca Nappi, SR. More here.
Question: Am I the only one who remembers "Hair" and "The Cowsills"?
---
---