Mon., April 1, 2013, 2:25 p.m.
Hux Redux — 25 Years Ago
From my SR files of stories I wrote 25 years ago: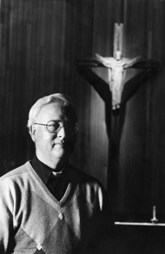 The pastorate of St. Pius X Catholic Church will remain in the family. The Rev. Andrew Schumacher, 54, of Lewiston's St. James Catholic Church, as been named to the post, succeeding popular human rights activist Bill Wassmuth, his third cousin. The appointment is effective June 7. "I'm delighted," Wassmuth said Friday of the appointment, announced this week by Idaho Bishop Sylvester Treinen. "He's very people-oriented." Wassmuth said he had no voice in naming his successor. Both men were raised in Greencreek, Idaho County, population 50, as part of a family that has produced 13 priests/DFO, SR (April 2, 1988).
Question: Did Father Schumacher succeed in filling the big shoes his cousin left behind?
---
---