MONDAY, APRIL 1, 2013, 8:56 A.M.
SR: Adams Misguided Re: Sewer Plant
Coeur d'Alene's plans for a $36 million upgrade to its wastewater treatment plant took a strange turn when a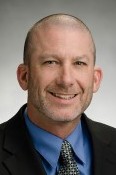 lone City Council member decided he knew more about the Idaho Constitution and the environmental challenges cities face removing phosphorus from the Spokane River. Councilman Steve Adams was on board with the upgrades until last month, when he announced that the city's funding plan was unconstitutional. He then leveled a threat to delay the project for up to a year, forcing the City Council to put the project to a vote May 21. The irony is that this anti-government ideologue's antics will end up costing taxpayers tens of thousands of dollars to stage and promote the election, and potentially millions more if the voters say no. This is what happens when officeholders try to dismantle government, rather than run it/SR Editorial Board. More here.
Thoughts?
---
---