Mon., April 1, 2013, 11:08 a.m.
Steve Adams Appeals Parking Ticket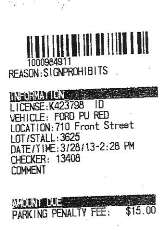 Coeur d'Alene Councilman Steve Adams is appealing a $15 parking ticket that he received from Diamond Parking at 2:28 p.m. Thursday while he attended a joint meeting of the council and Lake City Development Corp. Adams was ticketed for parking for more than two hours at 710 Front Avenue (Coeur d'Alene Library parking lot). In his appeal, Adams protested that he "was attending a 'special call' council meeting in the community room of library -- official Government Business -- meeting ran long. However believe there (is) an exception for elected officials." You can see Adams' appeal and citation here.
DFO: Should we take up a collection to help Councilman Adams pay his parking fine?
Question: Do you agree with Councilman Adams that elected officials should be immune from parking tickets that occur while they're engaged in official business?
---
---