Wed., April 3, 2013, 10:09 a.m.
Post Falls Teen Helps Catch Suspect
Brady Ulen is a sprinter. First and foremost, actually, Ulen is a soccer player -- a defensive center back for Post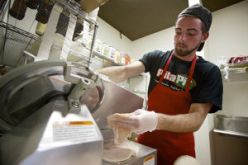 Falls High School whose skills earned him a full-ride soccer scholarship to Oregon Institute of Technology in Klamath Falls, Ore., beginning this fall. But Ulen sprints too. He can clock 200 meters in 22 seconds, and 400 takes around 51 - though when the two sports schedules conflict in the spring he chooses soccer over track every time. So when Ulen took off Saturday after a suspected car and wallet thief who was trying to outrun police, well, the suspect couldn't outrun Ulen/Tom Hasslinger, Coeur d'Alene Press. More here. (Coeur d'Alene Press photo: Jerome A. Pollos)
Question: Have you ever had a vehicle stolen?
---
---