Thu., April 4, 2013, 11:51 a.m.
Table Tennis, Anyone?
The rhythmic clickety-clack of bouncing pingpong balls echoes throughout the small gym at North Park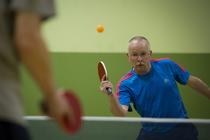 Racquet Club. But this isn't pingpong like you play in your rec room. This is table tennis, and it's a serious sport. "They call it the chess of the athletic world," said Spokane Table Tennis director Lisa Hagel. Spokane Table Tennis has been around for 30 years, but an offshoot of the original club began meeting at North Park in August. "It's growing so quickly," Hagel said. /Cindy Hval, SR. More here. (Colin Mulvany SR photo: Ken Waddle, 64, says he has been playing table tennis for more than 50 years)
Question: How are your table tennis skills?
---
---