Tue., April 16, 2013, 3:32 p.m.
Update: Hammer Attack Victim Wallis
As many of you remember, Yvonne along with her daughter-in-law, were attack by a hammer wielding neighbor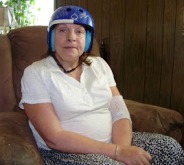 who obviously had mental issues. The daughter-in-law, Patricia was killed, but Yvonne survived. Many of you helped out financially to pull her through this period of recovery which took all of two years. Recently, Yvonne has joined the New Life Church where she met local people that had formed a bible study group.This group decided to do a complete makeover of her single wide mobile home that is aging.Paint, carpet, furnishings, etc. One need we are reaching out for is a hospital bed/Herb Huseland, Bay Views. More here.
DFO: Please join me in tipping our hats to New Life Church and Yvonne's guardian angel, Herb. Saaalute.
---
---