Wed., April 17, 2013, 3:17 p.m.
Obama On Gun Vote: 'Shameful Day'
An angry President Obama criticized a minority of the Senate on Wednesday who helped defeat a proposal to expand background checks on gun purchases. "It all came down to politics," Obama said in the Rose Garden.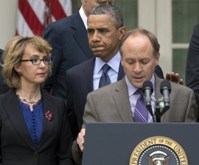 "All in all, this was a pretty shameful day for Washington." Obama was flanked by the family of Daniel Barden, who was among the 20 children and six adults killed Dec. 14 in a gun massacre at Sandy Hook Elementary School in Newtown, Conn. Also with Obama: former congresswoman Gabrielle Giffords, who was shot in the head during an assasination attempt in 2011. Just hours before, the Senate voted 54-46 to defeat an amendment by Sens. Joe Manchin, D-W.Va., and Pat Toomey, R-Pa. on tougher background checks/Gregory Korte and Catalina Camia, USA TODAY. More here. (AP photo: President Barack Obama is shown with former Rep. Gabby Giffords, left, and Mark Barden, the father of Newtown shooting victim Daniel)
Question: Do you support/oppose decision by U.S. Senate re: gun background checks?
---
---