Kootenai County commissioners have approved a new policy re: county employees and the social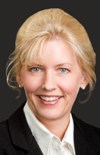 media. A copy of the policy obtained by Huckleberries Online says: "Kootenai County respects the right of employees to write blogs and use social networking sites and does not want to discourage employees from self-publishing and self expression." It then goes on to list 16 guidelines, including a couple that I believe will have a chilling effect for social media interaction, including this one:
No. 2: "Employees are free to express themselves as private citizens on social media sites to the degree that their speech does not impair working reltionships of the County and its Elected Officials, for which loyalty and confidentiality or important, impede the performance of duties, impair discipline and harmony among coworkers, or negatively affect the public perception of the County."
Who determines what "negatively affect the public perception of the County"?
SR photo of Commissioner Jai Nelson
Question: Are these rules a common sense protection for the county re: social media use by employees — or an attempt to intimidate employees re: use of social media?