Thu., April 18, 2013, 1:09 p.m.
Hearn Ready To Take On Handeen
Tom Hearn, the Coeur d'Alene School Board candidate for Zone 4 (re: "Mary backs Handeen"), writes: "To win this election I will continue to promote a positive message of strong support for public education, listening to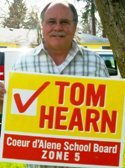 parents and our educational professionals, fiscal responsibility, and discuss my long history of being on various state boards and working in the Coeur d'Alene community to benefit children. I am also a hard worker apparently like Mr. Handeen and I have been walking neighborhoods in Zone 5 for the last month and I will continue until election day. I do not have a partisan political agenda. I hope Mr. Handeen will consent to being involved in the candidate forums, which he so far has not done, so we can compare our ideas and backgrounds publicly and the community will have an opportunity to make an informed decision about which of us is best to represent the citizens in Zone 5. Any questions please visit votetomhearn.com or my Facebook page. Thank you!!"
Question: Do you know which zone you live in?
---
---