THURSDAY, APRIL 18, 2013, 10:31 A.M.
Mary Backs Handeen
In the Coeur d'Alene Press online comments section, Mary Souza announces her support for Constitutionalist-turned-GOP committeeman Bjorn Handeen (pictured in Duane Rasmussen file photo) for the Coeur d'Alene School Board post now held by appointed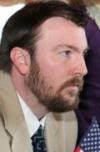 Trustee Jim Hightower. In doing so, she goes a step further than the Kootenai County Reagan Republicans, who backed appointed Trustees Brent Regan and Ann Seddon but balked at Handeen. Who has been a thorn in the RRs side by working hard to elect uber-cons to the local GOP Central Committee. Mary writes that Handeen: "brings a fresh, younger family viewpoint. His kids are just about ready to start school and he's a concerned, passionate parent and citizen, willing to step forward." Handeen is campaigning against Tom Hearn. (BTW, I wouldn't take Handeen for granted. He's organized and a hard worker. It wouldn't surprise me if he knocks on almost every door in his zone himself, including mine.)
Question: What does Tom Hearn and other challengers (Christa Hazel and Dave Eubanks) have to do to defeat the local GOP establishment candidates for school board?
---
---