Thu., April 18, 2013, 1:43 p.m.
Sequester To Start Impacting Idaho
The federal government's sequester spending cuts are about to take a toll on Idaho. The cuts, at this point,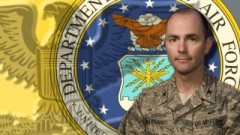 involve conservation programs and the Air National Guard, and could have impacted schools, but the governor's office exercised a sequester option sparing schools and some road projects from any funding reductions. In a letter dated March 19, 2013, Tom Tidwell, chief of the U.S. Forest Service, informed Gov. Butch Otter that approximately $1.5 million of federal funds budgeted to be sent to Idaho will soon be eliminated. "These mandated cuts, known as sequester, impact a number of Federal programs including the Secure Rural Schools and Grasslands payments to your state," Tidwell wrote to Otter/Idaho Reporter. More here. (Idaho Reporter photo of Col. Ed Marzano of the Idaho Air National Guard)
Question: Overall, do you think sequester has been a good/bad thing?
---
---