Fri., April 19, 2013, 2:56 p.m.
Council Comments Sadden Regan
On his Facebook wall for his trustee campaign, Coeur d'Alene School Trustee Brent Regan takes exception to comments by Coeur d'Alene council members Ron Edinger and Deanna Goodlander re: the sale of Person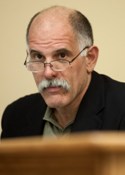 Field. Edinger was the lone council member voting no this week on the purchase of Person and Bryan playfields from the school district. He believes the city was buying property it already owns. Goodlander thought the property weas over-priced. Regan provides a brief background on the district's ownership of the property, dating back to 1950 when it bought the property for $1200 (deed provided on Facebook site). Later, Regan adds: "I find Mr. Edinger's (and Ms. Goodlander's) inability to accept a simple, demonstrable, documented truth to be both unsettling and a little sad."
DFO: I have no problem with the way the land purchase between the city and the School District went down. I would have had a problem if that property had been sold by the district for development. I get a kick out of Councilman Edinger's comments because there's probably an kernel of truth in them. But the greater good was achieved in the final analysis. Thoughts?
---
---