Fri., April 19, 2013, 11:25 a.m.
Hoffman Defends Nonini, Goedde
During the heated debate on the state insurance exchange, I made it a point to tell people that my chief political rival on the issue, Gov. Butch Otter, is a friend of mine, and still is. In the midst of battle during the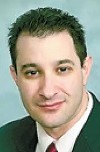 winter, I saw Butch at a function in Weiser and we embraced and shared a laugh over our "dueling petitions"—his in support of the exchange and mine against. Then we talked about family and other trivial, light things. Butch is a friend. Wrong on the exchange, I think, but a friend. I would never seek to denigrate him over a public policy point on which we disagree, and I haven't. Outside of Idaho, politics is too personal, and unnecessarily so. But now, unfortunately even here in Idaho, a couple of news outlets and some independent commentators have sought to demonize, vilify, condemn and, indeed, destroy individuals, based on their public policy disagreements/Wayne Hoffman, Idaho Freedom Foundation. More here.
Question: Do politics get too personal in Idaho?
---
---