Mon., April 22, 2013, 11:34 a.m.
Boston Bombing Suspect Charged
Boston Marathon bombing suspect Dzhokhar Tsarnaev (pictured) was charged by federal prosecutors in his hospital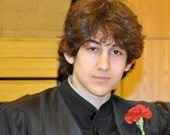 room Monday with using a weapon of mass destruction to kill — a crime that carries a possible death sentence. In a statement Monday, U.S. Attorney General Eric Holder detailed the charge against the 19-year-old Tsarnaev. In addition to the weapon of mass destruction charge, Tsarnaev is also charged with one count of malicious destruction of property by means of an explosive device resulting in death, according to the criminal complaint/U.S. News. More here. (AP file photo)
Question: Would you have preferred to see prosecution handled by the military?
---
---