MONDAY, APRIL 22, 2013, 3:51 P.M.
LCDC Mulls Press Online Advertising
As you may have noticed, Lake City Development Corp. is using an advertising tile (upper lefthand corner) on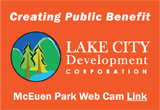 Huckleberries Online again this year. LCDC likes the traffic that it gets on this site. The urban renewal agency board also discussed buying an ad tile on the Coeur d'Alene Press Online site. But there's a snag, according to the minutes of the LCDC board meeting last week: "The CdA Press blog site contains a unique user demographic that seems more antagonistic to CDA community improvement endeavors." LCDC will continue to evaluate communication venues such as the Press Online and mebbe the Nickel's Worth to get its message out. You can read the minutes from the April 17 meeting here.
Question: Is LCDC doing a better job at getting out its message of community improvement?
---
---