Tue., April 23, 2013, 8:43 a.m.
400 Hear Genocide Watch Speaker
Dr. Gregory Stanton, president of the international organization known as Genocide Watch, said it's important to identify the process of genocide so preventive action can be taken. It all starts with "classification" and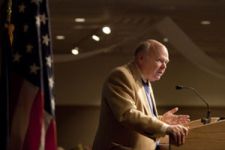 "symbolization," Stanton said, speaking to 400 attendees at the Kootenai County Task Force on Human Relations' 16th annual human rights banquet at the Best Western Coeur d'Alene Inn Monday night. "In fact if you can defeat genocide at this level, by refusing to classify (people based on characteristics like race or religion), you have defeated it -- period," Stanton said. If symbolization is eliminated, genocide is again defeated, he said. "You can't even put up a swastika in Germany now," he said. "They've been through Nazism, they know what it means. It is literally illegal to put one on a wall. You'll be arrested for it"/David Cole, Coeur d'Alene Press. More here. (Coeur d'Alene Press photo: Gabe Green)
Question: Have you ever attended a human rights banquet?
---
---