Tue., April 23, 2013, 8:27 a.m.
Sequestration To Shut CdA IRS
The Internal Revenue Service office in Coeur d'Alene is closing June 30 because of sequestration, a sign hanging on the office door reads. North Idaho residents needing assistance will have to go to the Spokane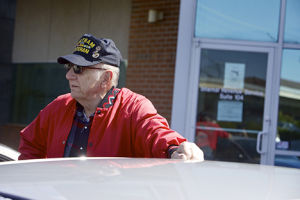 office, 920 W. Riverside Ave. Karen Connelly, IRS spokesperson, couldn't provide more information on the closure by Press deadline Monday, and employees at the office said they weren't at liberty to answer questions. But a sign on the office door announces the closure, citing the federal budget cuts that were implemented March 1, 2013, known as sequestration. Before it closes permanently, the office will also be closed May 24 and June 14 for the same reason. "It's nice to have an office locally instead of going to downtown Spokane," said Harold Markiewicz, of Post Falls, outside the office Monday. "It's an inconvenience to go over there"/Tom Hasslinger, Coeur d'Alene Press. More here. (Jerome A. Pollos Coeur d'Alene Press photo: Harold Markiewicz discusses his thoughts Monday about the Coeur d'Alene Internal Revenue Service office closing on June 30)
Question: Have you ever had to use the local IRS station?
---
---