Wed., April 24, 2013, 2:05 p.m.
It's Official! Bloem Won't Run Again
Update: It's official. Mayor Sandi Bloem called Huckleberries moments ago (2:03 p.m.) to say that she wouldn't seek a fourth term, citing personal and professional reasons.
Huckleberries hears ... that Mayor Sandi Boem will not run for re-election this November. According to my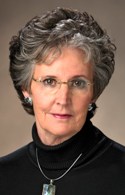 impeccable sources, Bloem has told some city employees, friends and family that she won't run again, due to other opportunities that have surfaced for her. Huckleberries also hears that the decision was not made because Bloem fears a possible bruising re-election battle against Councilman Dan Gookin, who has expressed indirect interest in running for the position. Bloem, who will be 71 at the end of the year, will leave behind an incredible legacy, if my sources are correct. Not only is she the first female mayor of Coeur d'Alene but she's also the only mayor to serve three, four-year terms -- one more than former Mayor Ray Stone. Stay tuned.
Question: How will the departure of Mayor Bloem affect the city and this fall's council races?
---
---