Wed., April 24, 2013, 4:56 p.m.
Idaho Quilters Overwhelm Prison
Overwhelming response to a call for donations to an inmate quilting project has left the Idaho Department of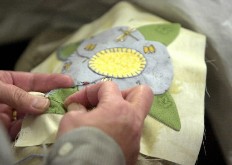 Correction out of storage space and unable to accept new donations of quilting material. "Idaho's quilters are generous and eager to share their passion for quilting," says Idaho Department of Correction Director Brent Reinke. "We never imagined we'd get buried like this." The prisons have received more than four pickup truck loads of quilting material. "We are truly grateful for all the help, but we just don't have a place to store more material," Reinke said. Click below for the department's full announcement/Betsy Russell, Eye on Boise. (SR file photo)
Question: Are you a quilter?
---
---