Wed., April 24, 2013, 4:05 p.m.
Ward: Beware The Teachers Union
The Democratic Party of Idaho is a shadow of its former self. Working Idahoans, rural Idahoans, seniors,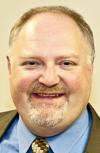 farmers, and Catholics have all left the former Cecil Andrus Democratic coalition from the 70's and the 80's in droves. The groups that inhabit the current national Democrat coalition (minorities, government labor unions, gays, urban poor, urban professionals, liberals, college students) just do not have the numbers in Idaho to return the party to competitive status. The only significant "tent pole" that holds up the Democrats' shrinking tent is the teacher union: the Idaho Education Association. If it weren't for the teacher union the Idaho Democratic Party would almost cease to exist. It would collapse like an empty suit/Jeff Ward, Kootenai Conservative Weekly. More here.
For those keeping score at home, appointed CSD Trustee Brent Regan will be speaking to the Reagan Republicans again at their noon luncheon at Fedora Thursday. Do you suppose the RRs will ever ask Republican Christa Hazel to speak to them?
Question: Wonder which boogeyman Jeff and the Reagan Republicans will conjure when the Idaho Republican Party finally succeed in completely destroying the teachers union and imposing the voter-rejected Luna Laws on our unfortunate public school students?
---
---