Mayor Sandi Bloem said Wednesday she will not seek a fourth term this fall. Bloem, the city's only three-term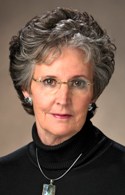 mayor — and its only female leader - cited personal and professional reasons for not running for re-election Nov. 5. Bloem didn't elaborate on those reasons, but said she still intends to be involved in the community after she steps away, calling her 12-year run as head of the city "an incredible honor." "It's the right thing for me now," Bloem said. "It was a very difficult decision but I have a few opportunities in front of me and I feel if I don't take those opportunities, and wait four more years, they might not be there." Bloem said she made the decision a few weeks ago and told some staff and council members. But then rumors of the decision circulated online Wednesday, which she confirmed/Tom Hasslinger, Coeur d'Alene Press. More here.
Question: Besides Dan Gookin and Mike Gridley, is there anyone else that you'd like to see run for mayor?