Fri., April 26, 2013, 12:11 p.m.
George Jones, 81, RIP
George Jones, the definitive country singer of the last half-century, whose songs about heartbreak and hard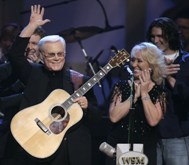 drinking echoed his own life, died on Friday in Nashville. He was 81. His publicists, Webster & Associates, said he died at a hospital after being admitted there on April 18 with fever and irregular blood pressure. Mr. Jones — nicknamed Possum for his close-set eyes and pointed nose and later No-Show Jones for the concerts he missed during drinking and drug binges — was universally respected and just as widely imitated/Jon Pereles, New York Times. More here. (AP file photo)
Question: Are you a George Jones' fan? And/or: Who is your favorite country singer?
---
---