Fri., April 26, 2013, 2 p.m.
IFF's Hoffman Opposes Common Core
As Idahoans engage in a statewide conversation about K-12 public school improvement, I want to add another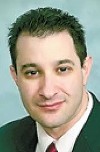 discussion point to the mix: The state should reexamine its participation in national education standards known as Common Core. I say this despite my deep respect and friendship for Idaho Superintendent of Public Instruction Tom Luna, a supporter of Common Core. Tom says there is a lot of misinformation out there about Common Core, propelling some of the opposition. But Lindsey Burke, the Heritage Foundation's education policy expert, told a panel Friday in Orlando that Common Core will lead to less education choice and competition, and is, ultimately, a push for federal control of all education—public and private/Wayne Hoffman, Idaho Freedom Foundation. More here.
Question: Are you surprised that Wayne Hoffman/Idaho Freedom Foundation opposes Common Core?


---
---