Fri., April 26, 2013, 11:18 a.m.
My 2 Cents: Debateless Debates
In this Duane Rasmussen photo, Coeur d'Alene School Board candidate Bjorn Handeen looks on as his opponent, Tom Hearn, answers a question from the audience at the Mica Grange Thursday night.
The Mica Grange deserves a hat tip for staging a successful, civil forum for the Coeur d'Alene School Board trustee candidates, before a packed house last night. But I came away dissatisfied. It was difficult to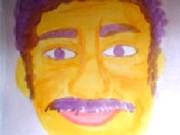 distinguish differences among the candidates. Maybe the forum was to blame in that all candidates answered all questions. Which limited the number of questions. On the other hand, some issues received good discussion. Common Core. Internatiional Baccalaureate. Privatizing bus service. However, the rest was a blur. Obviously, three candidates are backed by all or part of the local GOP establishment. There was no discussion about how their political philosphy will affect their educational policy making. At least two of the three GOP candidates support the voter-rejected Luna Laws. But there was no discussion about that. One of the GOP candidates was singled out by the Kootenai County Task Force on Human Relations for re-telling a tasteless anti-Obama joke. Yet there was no discussion about the candidates' stands on human relations. It struck me that at least two of the challengers are fiscally conservative. But they have been marginalized by the GOP establishment as liberals and Democrats because that's the nasty way that local Republicans deal with anyone who doesn't walk lock step with them. The trustees are charged with managing our most valuable resource: the education of our children. Yet it's difficult to get a real handle on how this group thinks about a range of subjects. The forum at Mica Grange was a good start. Another forum is coming up next week, sponsored by Coeur d'Alene Education Partnership and the Coeur Group. As you can see by the letter to the editor in the Coeur d'Alene Press printed below, some GOP hardliners are encouraging the Republican endorsees to boycott the forum. I'd say that any candidate that's unwilling to attend as many forums as possible is undeserving the public's vote. It's hard enough to decide what candidates are all about -- even with a forum. Trustee candidates also need to understand that they will be representing all of the Coeur d'Alene District -- and not just the noisy wheels embedded in the dominant local GOP/DFO.
Thoughts?
---
---