Fri., April 26, 2013, 3:26 p.m.
What Candidates Said Re: IB/PYP
For years, the Coeur d'Alene School District had come under attack for its International Baccalaureate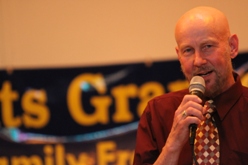 program, a world-renowned curriculum intended to teach critical thinking and global knowledge. Critics saw it as a waste of money at minimum, and a United Nations-driven socialist reeducation conspiracy at worst. But when a new crop of board members took over, they ditched both the IB program and the Primary Years Programme. But the programs had ardent supporters, and the school board faced backlash. Last night, at the Mica Flats Grange Hall, three sets of school board candidates talked about everything from bus contracting to what they think about the phrase "progressive education." (Most didn't like it.) Inevitably, they got asked about PYP and IB/Daniel Walters, Inlander. More here. (Duane Rasmussen photo of trustee candidate Dave Eubanks)
Question: Will the way the Coeur d'Alene School Board jettison IB/PYP last summer and fall come back to haunt the trustees running in the May 21 school elections?
---
---