Mon., April 29, 2013, 9:31 a.m.
Boomers Still Rockin' To Their Music
Almost 40 years ago, in one of its biggest hits, Fleetwood Mac sang: "Don't stop thinking about tomorrow. …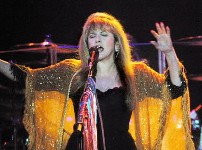 Yesterday's gone, yesterday's gone." Today, fans of the band – which hasn't released any new music in the past decade – are still happily looking backward. Tickets for the June 29 show at the Spokane Veterans Memorial Arena are selling much faster than when the '70s supergroup last came to town in 2004, said Matt Gibson, the arena's general manager. "It's going to be sold out," Gibson said. "Part of it is, you don't know if this band is going to be back, ever." While its creators creep past retirement age, the music the baby boom generation grew up with keeps on trucking/Rick Bonino, SR. More here.
Question: Does every generation continue to rock out to its music? Or is there something different re: the Baby Boomers' connection to their music?
---
---