Mon., April 29, 2013, 8:39 a.m.
Jennifer: Wary Of Trustee Forum
Jennifer Locke (Re: Letter: Beware the Coeur d'Alene Education Partnership/Coeur Group forum): You know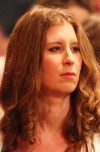 as well as I do, that questions can be asked to make someone look bad on both sides and it doesn't help when you have to explain yourself in a 30 second sound bite. I had a friend tell me about showing up early to a forum where the governor was going to be answering questions last year and that he had some guy who was part of the teacher's union there telling his people what to say or what questions to ask the governor before the forum. This guy thought my friend was part of his group. Most of these events on either side of the aisle are typically staged events. Do we know if all of candidates will be getting these questions ahead of the forum?
DFO: Before the Mica Grange forum, there were rumors that the deck was stacked against the three challengers to the incumbents and Bjorn Handeen because the forum was organized by a diehard Republican. The forum went off without a hitch -- and no loaded questions from the audience. Now supporters of the incumbents and Handeen are nervous because CEP has organized the Tuesday (5:30-7:30 p.m.) forum at the Coeur d'Alene Library. JimmyMac's Core Group will handle the questions. I've seen 2 or 3 of these Coeur Group forums, including one that involved controversial Councilman Steve Adams. The Coeur Group moderator and professionals couldn't be more neutral. Anyone who skips this forum because they're afraid of a loaded question isn't worthy to represent the Coeur d'Alene district as a trustee.
Question: Do you plan to attend the CEP/Coeur Group trustee forum Tuesday?
---
---