Mon., April 29, 2013, 11:53 a.m.
Jobs Plus: LCDC Produced 6000 Jobs
Spokesman Keith Erickson provides this information from the 2013 Lake City Development Corp. planning session:
Steve Griffitts (pictured in ZoomInfo photo), president of Jobs Plus, told the board that the LCDC has provided an immeasurable impact on the job market over the past 15 years. "Your involvement with Jobs Plus has helped to contribute 6,000 jobs in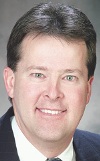 this area since 1997," Griffitts told the board. "There is such a great level of momentum generated by the LCDC." Griffitts added that urban renewal is the best means the state of Idaho has to attract jobs in a competitive national market. Public works improvements funded by the LCDC have supported and sustained that growth, he added. "We've attracted companies here and kept them here because of your involvement with creating necessary infrastructure," he said. Listing two examples, Griffitts said the LCDC helped bring in 500 jobs via the U.S. Bank call center on Seltice Way within the agency's River District, and 700 employees at Riverstone, which is thriving. "That area (Riverstone) has created so many jobs and included a tax base increase of more than $100 million," Griffitts said. Full report here.
Question: Are you still skeptical re: job-creation impact of LCDC?
---
---