MONDAY, APRIL 29, 2013, 12:07 P.M.
'Pub Crawl' Coming To Lake City
Breaking news: buzzed bicyclists could pedal around downtown Coeur d'Alene this summer. Actually, a new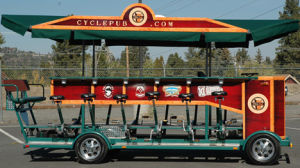 business venture wants to offer said cyclists the chance to do exactly that, but on an organized tour, and legal to boot. It's called The Cycle Pub - at least for now - and it's a bicycle big enough for 14 people that will make pit stops into downtown bars and restaurants as part of a guided tour proposed by Mark Brown of Hayden. "We actually thought it would be a fun thing to bring to Coeur d'Alene, said Brown, a perfusionist at Kootenai Health who borrowed the cycle pub idea from other cities such as Bend, Ore., and Boise/Tom Hasslinger, Coeur d'Alene Press. More here.
Question: Is this something you would enjoy doing?
---
---