Mon., April 29, 2013, 1:31 p.m.
UI Can't Keeps Its Good Presidents
Stability at the top has emerged as a key ingredient as the State Board of Education begins its search for the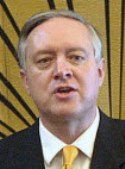 next leader of the University of Idaho. When Duane Nellis departs this summer, the university will be on its sixth president - four interim and two who stayed four years each - since the resignation of Robert Hoover in 2003. "We need to find someone who is going to be there," Ken Edmunds, immediate past board president, told the Idaho Statesman. "It is highly detrimental to keep having this turnover"/Bill Roberts, Idaho Statesman. More here.
Question: Why can't the University of Idaho keeps its presidents?
---
---