Tue., April 30, 2013, 4:27 p.m.
State Denies Demo's Jobless Claim
Former Sen. Nicole LeFavour's application for a $155 weekly unemployment check has been denied after the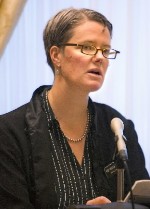 state objected to her claim. The Boise Democrat represented the left-leaning Democratic North and East ends from 2004 to 2012 before leaving the Legislature to challenge GOP Congressman Mike Simpson last year. Simpson won with 65 percent of the vote in November. LeFavour, 49, said she delayed applying for unemployment benefits while she lived off savings and began work on a memoir about her service as the only openly gay legislator in Idaho history. As her financial situation deteriorated, LeFavour said, friends urged her to see if she was eligible for the 26 weeks of benefits from the part-time legislative job that pays $16,116 annually/Dan Popkey, Idaho Statesman. More here. (AP file photo)
Question: Did the state of Idaho make the right decision re: former senator Nicole LeFavour's unemployment claim?
---
---