Thu., Aug. 1, 2013, 3:38 p.m.
Carlson: Otter Would Kick Raul's Butt
Columnist Chris Carlson's analysis of the game of chicken being played by Gov. Butch Otter and Congressman Raul Labrador re: 2014 gubernatorial race:
There is a huge bluff game being played and at this point it appears Governor Otter has bluffed Congressman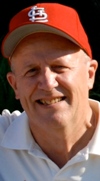 Labrador into thinking he really is running for a third term. Furthermore, the governor appears to have convinced Labrador that in a head-to-head primary he would kick Labrador's rear. To that end there are rumors Governor Otter is quietly preparing a huge north Idaho fund-raiser that will feature – no, not Tea Party darling and the new Senator from Texas, Ted Cruz – but rather the charismatic governor from New Jersey, Chris Christie. Governor Christie is clearly no favorite of the Tea Party so this has about it an "in your face" message to Labrador. Neither does holding a fund-raiser remove all doubt about the governor's intentions. He does in fact have a hold-over campaign debt (a loan from himself to his campaign) and the proceeds all could go to paying off the debt to himself. My guess is that if Governor Otter runs, he would crush the overly ambitious congressman. Full column here.
Question: Who would win a GOPrimary race for guv between Otter and Labrador?
---
---