Thu., Aug. 1, 2013, 1:11 p.m.
Ex-NBA/WSU Player Faces Charges
Local basketball star Craig Ehlo, who starred in the NBA and most recently coached at Eastern Washington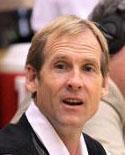 University, was arrested early Thursday on a domestic violence charge. Spokane County sheriff's deputies arrested Ehlo, 51, on charges of first-degree reckless burning, domestic violence, according to the sheriff's office. He was booked into Spokane county jail at 7:36 a.m. The charge is a Class C felony. A sheriff's office spokesman declined to provide more information about the arrest. Ehlo resigned from EWU on July 11. He also worked as a television analyst for the Seattle SuperSonics and Gonzaga/SR. More here.
Question: Domestic violence & 1st degree reckless burning? Hunh?
---
---