Thu., Aug. 1, 2013, 1:22 p.m.
Love Story: Love At First Laugh
She heard his voice first – then his laugh. A group of young men were chatting at a downtown drug store, but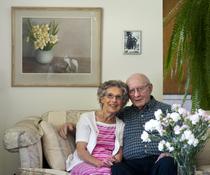 Jackie Cassis was intrigued by one particular voice. Her errand forgotten, she followed the sound of that laughter. "I went over to where I could see them, but they couldn't see me," she recalled. "They were having such a good time!" She discovered the origin of the laugh that had captivated her. "Once I saw Tom I didn't pay attention to the other two guys. I said, 'He's not tall. He's not dark. But he's just what I want.' " It was 1946, and for Jackie, a sophomore at North Central High School, one look was all it took/Cindy Hval, SR Love Stories. More here. (Dan Pelle SR story: Jackie and Tom Cassis have been married for 61 years. They received the painting on the wall as a wedding gift)
Question: Do you believe in love at first sight?
---
---