Mon., Aug. 5, 2013, 10:43 a.m.
CdA Resident Interrupts Burglary
A 54 year-old female returned to her residence at 12:55 a.m. and saw a large truck parked in her driveway. She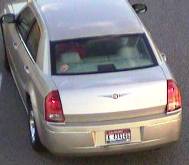 said no one should have been in her home except for her elderly father who is physically disabled from a stroke. She exited her vehicle and noticed a tall, thin built man standing in the doorway to her home. She asked him what he was doing in her residence. She then observed a heavy set male exit the truck that was in her driveway. He yelled at her, and then walked up to her vehicle, got into it and drove away southbound on 16th at a high rate of speed. The second suspect then jumped into the truck in the driveway, and also fled in the same direction. The victim's vehicle is a 2006 gold Chrysler 300 license plate K434146. This vehicle is still missing and is entered into NCIC as a stolen vehicle/Coeur d'Alene Police Department. More below.
The victim went into her residence and found her father unharmed and still in his bed. Items taken in the burglary were a large black Honeywell safe with contents valued at $200,000 and a small black Honeywell safe with contents valued at $50,000. The contents in both safes were rare gold and silver coins. The suspects also took prescription medication belonging to the victim's father. Detectives are working with the victim to provide a better physical description of the suspects. That information will be provided as soon as it is obtained. Anyone with any information on this crime is asked to call the Coeur d'Alene Police Department at 769-2320.
---
---