Mon., Aug. 5, 2013, 11:09 a.m.
GOP Threatens To Pull Out Of Debates
The head of the Republican Party threatened Monday to cut out CNN and NBC from the GOP presidential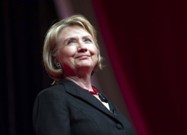 primary debates if the networks do not shelve their plans to air lengthy features on Hillary Clinton -- who is widely expected to be a Democratic candidate in the 2016 election. Republican National Committee Chairman Reince Priebus accused both networks of trying to put "a thumb on the scales" of the 2016 race with programming he claimed would be tantamount to an "in-kind donation" to the Clinton campaign. Last month, CNN Films announced it was producing a documentary on Clinton to premiere next year, first in theaters and then on CNN. NBC also announced a four-hour "Hillary" miniseries starring Diane Lane, on the life of the former secretary of state and first lady/Fox News. More here. (AP file photo)
Question: Does the GOP have a legtimate beef re: the network specials on Hillary Clinton?
---
---