Tue., Aug. 6, 2013, 9:59 a.m.
CdA Woman Interrupts Burglars
A home safe loaded with up to $100,000 in gold and silver coins was stolen from a Coeur d'Alene residence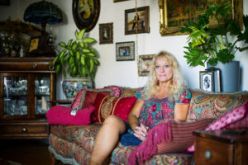 in a brazen burglary just before 1 a.m. Sunday. "It's unreal," homeowner Marla Ross (shown in Coeur d'Alene Press photo), 54, said Monday. When she arrived at home, in the 900 block of 16th Street, she spotted an unfamiliar dark-colored Ford pickup truck with oversized tires backed up in her driveway. She exited her car and saw a man standing in a side doorway of her home, and she demanded to know what he was doing inside her home. She then saw a man get out of the pickup truck. To her surprise, he yelled at her to get out of his way, walked up to her gold 2006 Chrysler 300, got in and sped south on 16th. The other man then jumped in the truck and took off in the same direction/David Cole, Coeur d'Alene Press. More here.
Question: Have you ever experienced a burglary of your home?
---
---