Tue., Aug. 6, 2013, 1:21 p.m.
Volunteers Building New Trail
Volunteers are helping the Idaho Panhandle National Forests build a new trail to a stunning view from a forest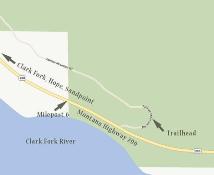 fire lookout overlooking the Clark Fork River and the proposed Friends of the Scotchman Peaks Wilderness northeast of Lake Pend Oreille. The Friends of the Scotchman Peaks Wilderness already has put in multiple days of routing, brushing, log cutting and carving the tread to the Star Peak Lookout over the past two years. The peak where an historic lookout is located formerly was known as Squaw Peak. The next work party is set for Friday ( Aug. 9). Meet at the trailhead (see map) at 9 a.m. Pacific Daylight Time (10 a.m. Mountain). Following work days are Aug. 23 plus the weekend of Sept. 21-22/Rich Landers, SR Outdoors. More here.
---
---