Wed., Aug. 7, 2013, 9:58 a.m.
St. Vinny's Opens O'Brien House
A ribbon-cutting was held Tuesday morning to celebrate the new John O'Brien House at St. Vincent de Paul.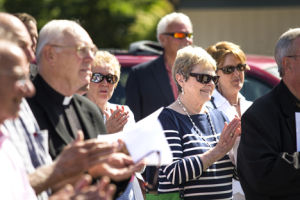 The Homestead Street facility offers housing for low-income residents with a chronic mental illness and/or disabilities. Pat O'Brien, who attended the ceremony with her son, Brian, said, "It's such an honor to have this building named after my late husband. I'm also delighted to see it's already totally occupied." John O'Brien served on the St. Vincent de Paul board before becoming its president from 1999 to 2005. He was a longtime dedicated volunteer in the Coeur d'Alene community. The new building has 14 apartments, all but one of which are single bedroom units. Apartments come with a one-year lease and residents must meet HUD income standards to be eligible for the units/George Kingson, Coeur d'Alene Press. More here. (Gabe Green CdA Press photo: At the ribbon cutting of the new John O'Brien House Pat O'Brien applauds a speaker Tuesday afternoon)
Question: Have you or a loved one directly benefitted by presence of St. Vincent de Paul organization in Coeur d'Alene?
---
---