Wed., Aug. 7, 2013, 5:32 p.m.
Weiner Drops 'GrandPa' Bomb
New York City mayoral candidate Anthony Weiner (WEE'-nur) has called an older political rival "Grandpa"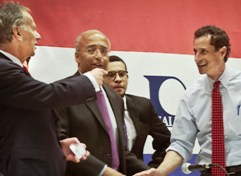 during a heated confrontation at a forum sponsored by the AARP. Longshot Republican candidate George McDonald frequently mocks the former Democratic congressman's sexting scandal. Tensions between them erupted again before the Manhattan forum Tuesday, when Weiner touched his 69-year-old opponent's chest in greeting. McDonald barked, "Don't put your hands on me ever again." The 48-year-old Weiner responded by telling McDonald he has "anger issues." When McDonald disagreed, Weiner said, "Yes, you do, Grandpa"/HuffPo. More here. (AP photo: New York mayoral candidate Bill Thompson, second from left, reacts as fellow candidates George McDonald, far left, and Anthony Weiner, second from right, exchange words)
Question: Would you be offended if a younger candidate called an older one "Grandpa" or "Grandma" at a public forum?
---
---