Thu., Aug. 8, 2013, 11:51 a.m.
WSU Cream Of Dairy Quiz Crop
A Washington State University team scored big and came home with a bowl win recently. While the Cougars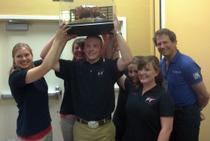 are just gearing up for football season, the WSU Dairy Club traveled to Indianapolis for the American Dairy Science Association annual meeting. Competing against 11 other universities at the Dairy Quiz Bowl, the WSU team won first place July 8. It's the first time WSU has won, said team member Danielle Meyers, a 2010 Riverside High School graduate. Meyers, who entered veterinary school after her junior year, joined Dairy Club her freshman year. "I'm a horse girl, but I figured I could learn something new"/Cindy Hval, SR. More here.
Question: How many times a day do you eat dairy products?
---
---