Fri., Aug. 9, 2013, 8:42 a.m.
Deanna Explains McEuen Art Pick
Councilwoman Deanna Goodlander (re: McEuen Field archway contract awarded): a selection panel is defined by the Public Art Policy. It consists of 3 arts professionals, two of whom must be artists, a citizen, a city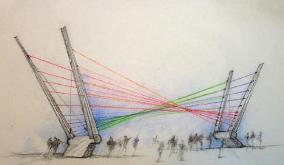 councilmember, the landscape architect, engineer, professional involved in the project and the Mayor can appoint another citizen. There were 194 entries from around the country, the panel narrowed it down to about 30 and then down to 4. These four were paid a stipend to produce a macquete (model) and those were put on display at the library for citizen comments. Then the panel met and chose the finalist. the four were all excellent, but I love this one because it is transparent. You can see Tubbs and the Lake through the wires. The others were more prominent. The Arts Commission decided to do a nationwide call to get more variety for McEuen. There were submissions by locals, but they did not make the cut. There are two more major pieces to go and they are in process now. One at third and Front and one down near Tubbs Hill. The Tubbs one is supposed to be interactive.
Question: Are you get more/less/same excited about new McEuen Field, as details like this come into view?
---
---